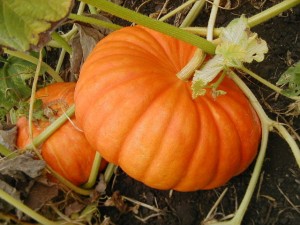 Growing Pumpkins:
In a sunny spot that gets at least 6 hours of sun.
Typically in the middle of small hills or mounds about three feet in diameter. Surround each hill with a moat (about 4 inches wide and 4 inches deep) to help contain water around the roots. Plant 4 to 5 seeds in a circle in the middle of the hill, and space the seeds 6 to 8 inches apart. Space the hills about 10 feet apart.
Cover w/about an inch of loose, moist soil.
Sprouts in 7-14 days
After a few weeks, vines can grow as much as 6″ a day. Vines get as long as 30′ and can be pruned.
80% – 90% water means water often
Pumpkins are ready to harvest once the color of the fruit has deepened into one of the shades of the setting sun — somewhere between deep yellow and fiery red, depending on the variety. Leave several inches of stem — it helps them stay fresh — and let them cure in the sun for 10 days. Cover them at night if there is danger of frost. Then, store the harvest in a dry cool place. With proper care, you may just have pumpkins until Spring.
I planted mine today! Planted 30 seeds. Hope I get some pumpkins!