I checked Farmer's Almanac.  Today is a good day to plant.  Tomorrow and Monday, no.
So, we planted.  Potatoes, beans, lettuces, broccoli, spinach, even herbs.  I've been told not to plant before April 15, but we don't have any frost predicted.  In fact, we have heat predicted!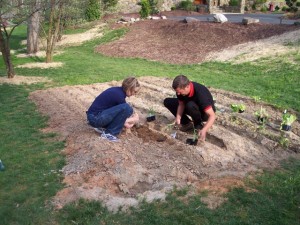 And Laura and Frank are here.  Frank's parents are major gardeners so I'm enlisting all the help I can get.
We had a great time.  Can't wait for the harvest!