I bought a bundle of 10 black raspberry roots from Sharon's Natural Gardens mid March of last year, 2010.  In only 12 months, they grew up about 4′ high, back down over the wires into the ground and back up to a height of about 3 more feet!  Right now, they are absolutely COVERED with berries.
When I planted them, they were one year old (though only bare roots) and should be ready to harvest this, their second year.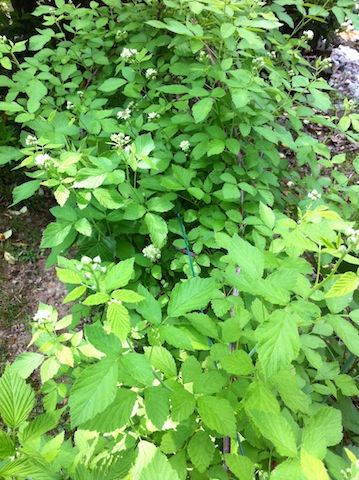 My concern now, how do I keep the birds off?  I wrote to Sharon and here is her response:
Hi Karen,
I am glad they are growing well. I have no problem with birds . My solution is to plant plenty ….a bird may get a few berries but they are also wonderful bug eaters .
We do have a mulberry tree that ripens its fruit at the same time in the spring as the strawberrys and spring raspberrries come in .We also have a few varieties of red raspberrys that come in after the blacks followed by gooseberrys. I think the bird prefer the mulberrys .
If you just have a few black raspberrys. you can use bird netting .  I hope this helps
:) Sharon
When I re-read her website, I also found that they use the leaves for tea!  I'm definitely trying that.
I'll keep you posted on how the berries/birds do.