The first year I planted my rose bushes late into the season.  They grew and bloomed like crazy.  I had blooming roses into November and North Carolina November is cold!  I loved my plants and they were very happy.
Last year, the second year of my rosebushes, white spots appeared on the leaves early in spring but I saw no aphids, no bugs of any sort.  Next thing I know, the leaves have holes then, in the blink of an eye, the bushes look like they've been eaten by locust!  The bushes grew and roses bloomed – once!  Then, after the "leaf decay" no more roses, all season!  Tragic!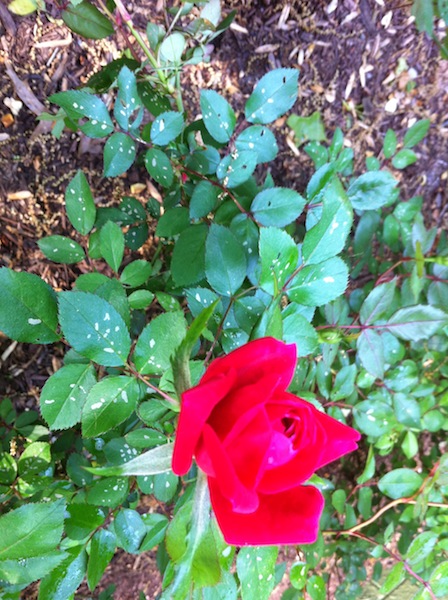 Here we are in mid April and the white spots are back.  Now I find out, don't plant rose bushes near the house, they need circulating air.  Mine are by a brick wall.  Rose bushes don't like warm days and cold nights – the perfect definition of spring in North Carolina. Rose bushes don't like to be damp – our spring mornings have dew so thick you need boots.  Today I read, "rose bushes are a lot of work, but they're worth it."  *Sigh*
So, I researched and found I should cut off the bad leaves and spray with a combination of water, baking soda and dishwashing detergent.  I've spent most of the day with the rose bushes. I hope I was in time.
Treatment and Prevention: In its early stages, it can actually be washed or sprayed off the roses, but once it takes hold, this is not possible.One of the best ways to avoid powdery mildew is to keep things as airy as possible. Roses planted too close to a wall or to each other may not get enough airflow. You can prune away crossing canes and open the center of the bush to allow sunlight and airflow, if you have a bush that is troublesome. Also, spraying the foliage with a mixture of 1 T. baking soda per 1 gallon of water and a few drops of dish detergent can be effective. If used as a preventative. Sulpher or lime sulpher sprays can be used early as a preventaive also. There are other more toxic chemicals available, such as copper based poisons among other things, but as with all toxic chemicals they should be used only when absolutely necessary and strictly according to the directions provided witht he product. These treatments as with most anti fungal agents are best applied as a preventative in the early spring or late winter when the plants are still dormant.
Thanks for this information from Bad Fungi.
Another great article came from Rose Gardening Made Easy:
Powdery Mildew On Roses
Rose diseases such as powdery mildew is a fungus that thrives on humid nights and warm or hot days.
The symptom is a white powdery residue on leaves.
The leaves then become crinkle and distorted.
An exellent proven preventative and Non-Toxic treatment for powdery mildew, as well as Blackspot, is to spray with a baking soda solution.
To Mix Your Own:
Mix together 2 tablespoons fine horticultural oil with 1 tablespoon mild dish soap and a large tablespoon of baking soda.
Mix with one gallon of water and stir thouroughly.
Before spraying, it's best to water your rose plants well and hose down the foilage with a garden hose.
Spray only when the roses are shaded, early morning or evening.
Spray all foilage and the canes comletely.
To prevent powdery mildew from attacking your roses, spray weekly with the baking soda solution when leaves first appear in the spring, then every two weeks thereafter.
This is the proper way to apply the Baking Soda Solution:
To prevent spreading the disease, remove all affected leaves and destroy them.
Water the soil, BEFORE spraying the rose bush and spraying the soil beneath it, making sure you spray the leaves undersides as well on top of the leaves.
Spray all canes, in fact, thoroughly soak the bush with the solution, leaving nothing unsprayed.
The reason the soil should be sprayed as well, is because there are 'fungus spores' in the soil as well.
So you want to get rid of those also, to prevent the fungus from coming back."