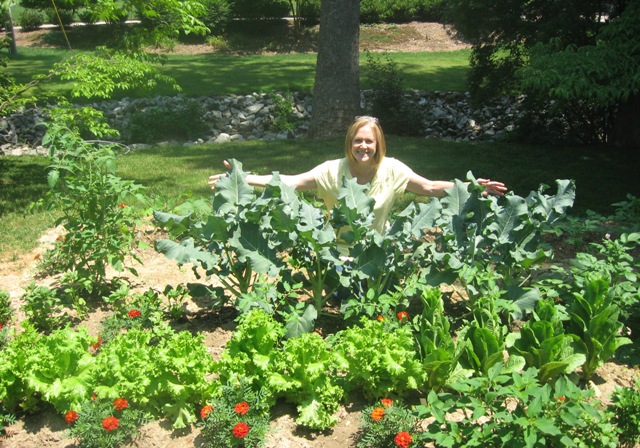 I have the biggest, most gorgeous broccoli leaves. Maybe everyone who grows broccoli has them, I don't know because this is my first year as a gardener.
But, I've been wondering, what can you do with those wonderful broccoli leaves?
broccoli raab = broccolirab = broccoli de rape = broccoli de rabe = brocoletti di rape = brocoletto = rappi = rape = raab = rapini = cima di rapa = cima di rabe = choy sum = Chinese flowering cabbage.  This slightly bitter cooking green has long been popular in Italy and is now catching on in America. It's best to just eat the florets and leaves; the stems are quite bitter.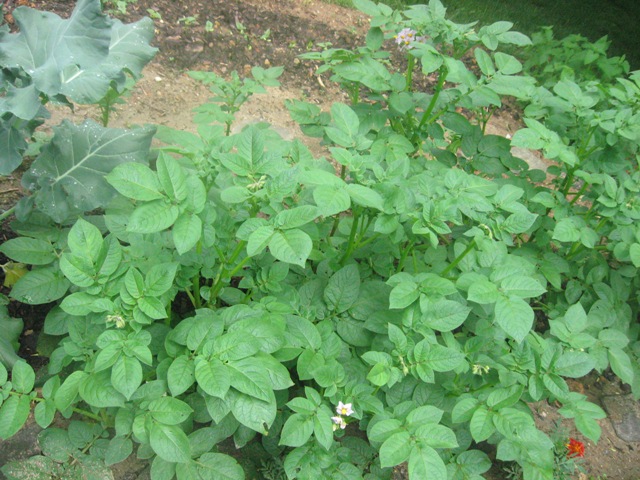 And, I wondered the same thing about the gorgeous potato plants. Someone told me that Asians use the leaves of the potato plants in their cooking. However, WikiAnswers said: Potato leaves are poisonous. Potato leaves, flowers, sprouts and green or "sun-scalded" potatoes contain a glycoalkaloid that is a natural defense mechanism to protect the plant from predators. I believe the name of the glycoalkaloid is solanine, and is also found in the leaves of tomatoes. I do not advise this, but you can leave a potato in the sunlight for some days until it turns green. Then cook and eat it. You probably won't die, but the headache you'll get might make you wish you had. Solanine toxic effects tarket the gastrointestinal, liver, heart. Eating potato leaves can, in fact, kill you. .
So, ok, I'm convinced. I need to learn about eating the broccoli leaves but forget about the potato plants!