It appears that my blooms are turning into lemons? I'm assuming that the little green nodules that are left after the petals fall off are the someday lemons?
And, I'm concerned that I'm already behind. I've had the tree for four weeks and never considered that it might already need fertilizing until I read this today. It has really been drinking heavily and perhaps it needs more while producing fruit.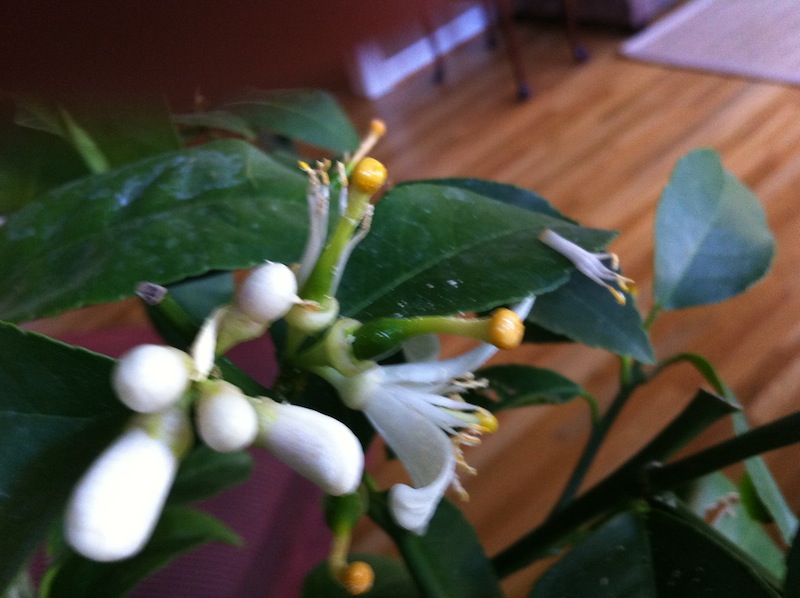 Here's what I've read about fertilization: It is recommended to apply 2 to 3 inches of organic matter under the canopy of the tree to conserve moisture. An Improved Meyer lemon tree must be fertilized every four to six weeks from February to August to ensure a healthy grow cycle and be pruned every one or two years to keep them within bounds and easy to pick.
I've also read that it needs high levels of Nitrogen.
MeyerMike suggests: 1 bottle top capful of white vinegar per gallon at every watering when using tap water. He also uses liquid fertilizer with micronutrients in a 12:4:8 NPK ratio, which Miracle Grow does have. It's in a yellow bottle. Foliage Pro is what he uses.
How do you care for your Meyer Lemon trees and am I on the right track?